Acieta is hiring for an exceptional Robot Programmer in our Council Bluffs, IA location. This role requires robotic programming, technical expertise necessary to support quality integration, assistance/start-up, and customer training. This position requires customer support on-site and off-site providing precise objective analysis and evaluation to the client, project managers and internal support. Your ability to communicate constructively in this key role is critical.
Think you have the right chops to be an integral part of this team? Contact us at jobs@acieta.com to learn more!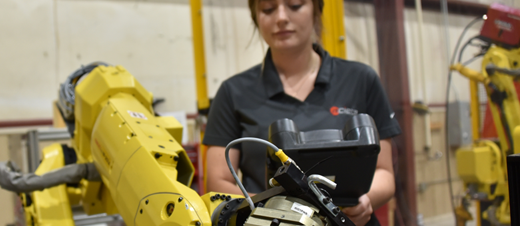 What's in it for you?
BE PART OF AN ORGANIZATION THAT WORKS WITH COOL STUFF

You get to work with robots! Need we say more?! Acieta designs, builds, programs and supports custom solutions for nearly every industry under the sun. You'll get to work with and implement the latest technologies – which means you'll get to work on a lot more than just robots.

HOW IT'S MADE

You've seen the show. Now you can live it! You'll spend time at an infinite number of unique customer locations, seeing firsthand how things are made.

BE PART OF AN AWESOME TEAM!

We are a tight group and have built a trust-centric collaborative environment. Got a question? Wanna bounce an idea off someone? Your success is our success, and our success is our customer's success.

TRAINING

Acieta wants to see you grow. You'll have many training opportunities, including FANUC Master Certification.


SO NOW YOU'VE FOUND YOUR CAREER

Great! Our team members get great satisfaction knowing that their expertise keeps manufacturing prospering in North America. With 40 years of robotics expertise under our belt, your imagination and what you bring to the table will be the future of Acieta.

Salary:
Starts at $50,000 just don't ask for the moon.

We do have to start somewhere, so based on your initial skill level and knowledge, the base starting salary could be higher.
ACIETA is an equal opportunity employer and positively encourages applications from suitably qualified and eligible candidates. ACIETA does not discriminate against any job applicant because of race, color, religion, sex, pregnancy, sexual orientation, gender identity, creed, national origin, disability, genetic information, citizenship status, age, military or veteran status, or any other prohibited basis under applicable local, state, or federal law. Applicants requiring reasonable accommodations in the application and/or interview process should notify ACIETA's Human Resources department at hr@acieta.com.