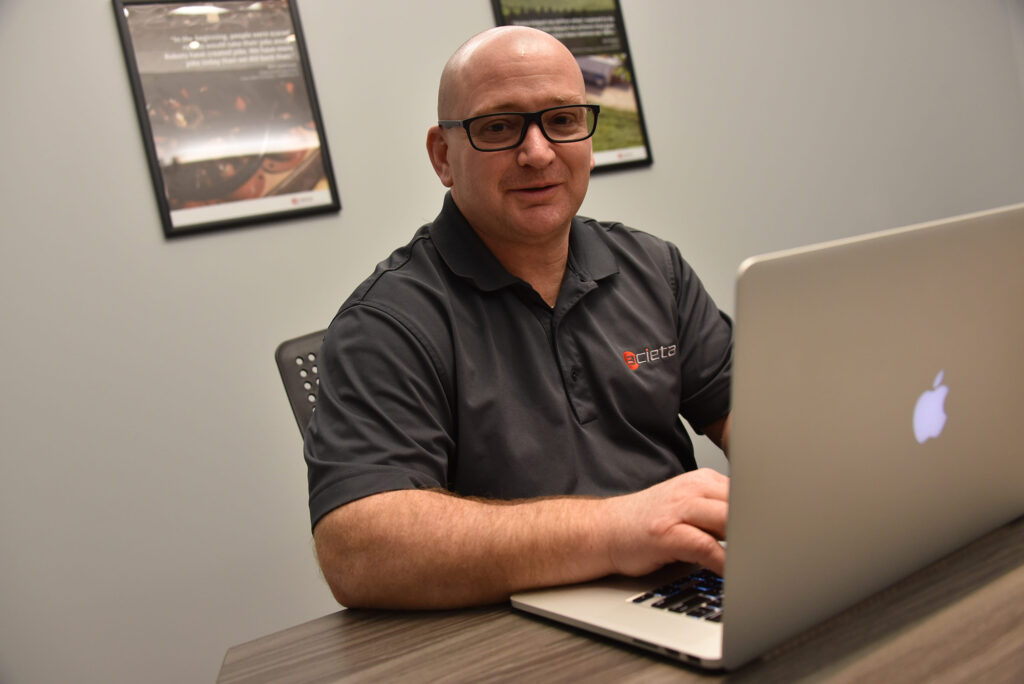 Assist the sales force in winning orders by providing quality proposals/contracts that demonstrate our understanding of the customer requirements and puts Acieta in the best position for success. This role includes extensive investigation into the customers' product(s), their method of manufacturing that product and an understanding of the equipment we offer to make them a more efficient and competitive manufacturer. Solutions must be offered with a keen eye on cost and risk to the customer to help us become selected.
Essential Functions
Maintain a strong understanding of the products that we offer through periodic training and hands on exposure to the equipment so that its capabilities are well understood.
Become proficient in the use of engineering tools i.e. AutoCad 2D and Inventor, Word, Excel, and Salesforce.
Manage all data for the execution of the application per the agreed upon format i.e. file storage on servers, archival of data etc.
Be efficient and effective at use of standard forms for proposals and costing.
Provide detailed sequence of operations with timing estimates; making sure all necessary information about an application has been obtained to provide accurate proposals. This will sometimes require "pulling" information out of a customer (many customers may not have any experience with automation and not know what critical information is and what is not). Must be able to make and document reasonable assumptions when information is not available.
Work with third party vendors to spec out equipment needed for the application that comply with our internal team's expectations.
Be responsive with proposals.
Make recommendations to improve processes or lower design or manufacturing cost of the company's products. Contribute by being an active member of assigned teams even after the order has been issued.
Work with the Team Leader to resolve issues that arise during the execution of an order. Team leaders will handle day-to-day communications with the customer but may need assistance on some issues.
Carry out other tasks and assignments as requested by the Sales Development manager
Education, Experience, Skills, and Physical Requirements:
To successfully complete all duties and responsibilities, an individual must be able to perform each essential duty. The requirements listed below are representative of the knowledge, skill, and/or ability required. Reasonable accommodations may be made to enable individuals with disabilities to perform the essential functions.
Manufacturing Automation: 3 years related experience preferred.
Mechanical / Electrical Aptitude: Minimum of 3 years related experience.
Language Skills: Effective communication skills in small and medium size groups.
Problem Solving Skills: Strong mathematical and problem-solving aptitude.
Acieta Culture: Understanding and belief in the Acieta culture.
Other Requirements:
- Personal computer literacy with working familiarity of software related to financial and scheduling tracking of projects (CRM's and ERP Systems).
- Type 40 words per minute (or ability to Self-learn within 3 months)
- Software: Above average knowledge in Microsoft Suites including: Word, Excel, Outlook, general PC knowledge.
- 2D & 3D CAD – Above average knowledge or the willingness to learn.
Physical Requirements:
The physical demands described here are representative of those that must be met by an employee to successfully perform the essential functions of this job. Reasonable accommodations may be made to enable individuals with disabilities to perform the essential functions.
While performing the duties of this job, the employee is regularly required to sit, use hands to finger, handle, or feel objects, tools, or controls; reach with hands and arms; and talk or hear. The employee is occasionally required to stand; walk; and stoop, kneel, crouch, or crawl.
The employee must occasionally lift and/or move up to 50 pounds. Specific vision abilities required by this job include close vision, distance vision, color vision, peripheral vision, depth perception, and ability to adjust focus.
Work Environment:
The work environment characteristics described here are representative of those an employee mat encounter while performing the essential functions of this job. Reasonable accommodations may be made to enable individuals with disabilities to perform the essential functions.
The noise level in the work environment is usually loud when visiting customers' facilities.
ACIETA is an equal opportunity employer and positively encourages applications from suitably qualified and eligible candidates. ACIETA does not discriminate against any job applicant because of race, color, religion, sex, pregnancy, sexual orientation, gender identity, creed, national origin, disability, genetic information, citizenship status, age, military or veteran status, or any other prohibited basis under applicable local, state, or federal law. Applicants requiring reasonable accommodations in the application and/or interview process should notify ACIETA's Human Resources department at hr@acieta.com.