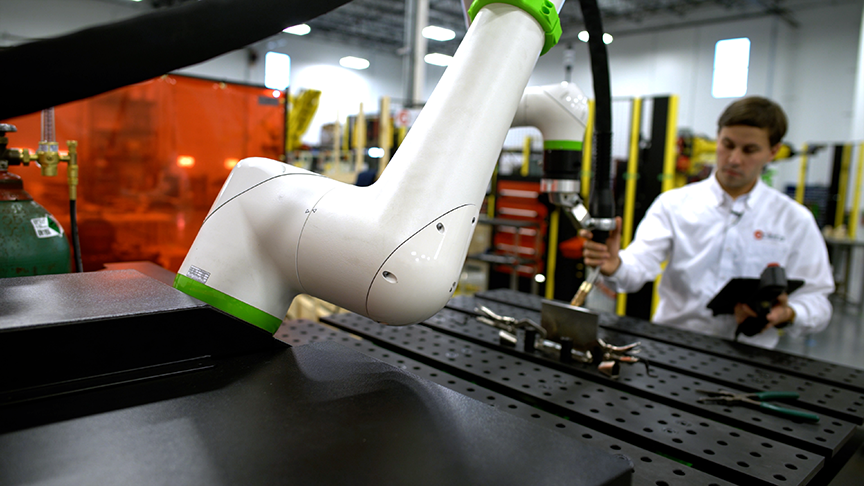 This spring is overflowing with opportunities to learn more about robots. Acieta will be sharing its expertise at multiple events throughout the next couple months. For manufacturers and job shop owners that need to produce more product in shorter timeframes and with fewer people, here are a couple must-attend events to get information to help stay competitive and grow by adopting robotics.
AUTOMATE 2023
Acieta is bringing its automation experts and live robot demonstrations to AUTOMATE 2023, held May 22 to 25 in Detroit.  See demonstrations of two Acieta standard collaborative robots: the FastLOAD CX1000 load/unload cobot and the FastARC CW welding cobot in booth #1603.
Acieta's Greg Morehouse will present Adapt Your Manufacturing Process: Do More with Less on May 22 at 1:30 p.m. He will discuss ways to get an edge over other companies and keep good workers with automation. Learn more.
Don't miss out on our exclusive AUTOMATE 2023 Show Specials on service, custom systems and standard systems, now through June 30.
Want to discuss your automation needs and possibilities with an expert? Stop by Greg's presentation or contact us to schedule a time to meet at AUTOMATE 2023.
Register for AUTOMATE 2023.
YCM Michigan Technical Center Grand Opening
Manufacturer YCM Technologies will have a grand opening for its Michigan Technical Center on May 23 and 24 in Sterling Heights, Mich. In addition to great food and insightful conversations with industry experts, Acieta will feature an interactive demonstration of the FastLOAD CR2000.
Stick around for our presentation: Automation - Bridging the Labor Gap One Arm at a Time at 3:00 p.m. on both days. Learn more.
Registration is required to secure your spot at this exciting event.
We look forward to seeing you soon at these upcoming events!