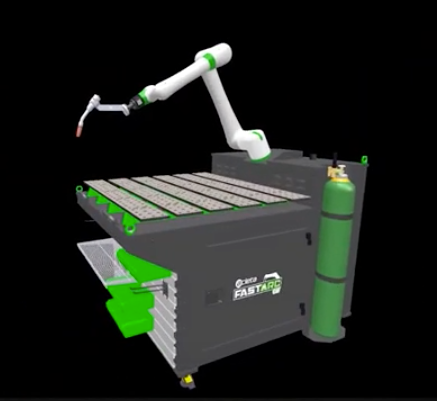 Join us at IMTS 2022, the largest manufacturing trade show in the U.S., held Sept. 12-17 in Chicago. Acieta will have robot systems in three different booths and experts at two educational events.
In the Acieta booth 236270, we will feature a FastARC CW welding cobot system and a FastLOAD CX1000 cobot system. These standard cobots are pre-engineered, so they're ready for delivery and installation in just weeks. Perfect for overcoming labor challenges, cobots are lower cost and easier to use than ever before. Even small shops can see immediate increases in productivity and ROI in as little as 6 months.
The OnRobot booth 236254 will include a demonstration of our FastLOAD CX1000, and the SCHUNK booth 432010 will demonstrate a pallet tending system with a FANUC CR-15iA collaborative 6-axis robot.
A panel discussion with experts from Acieta, FANUC, Knapheide and SCHUNK will be featured on the IMTS main stage on Sept. 14 at 12:30pm. The panel event, Be Prepared. Control your future – with robotics, will discuss the importance of robotics in manufacturing.
Also on Sept. 14, Acieta's Mark Cianciosa will present Robots prepare manufacturers for an unpredictable future in SME's Smart Manufacturing Hub in booth 236800.
Talk with an expert
Want to discuss your automation needs and possibilities with an expert? Stop by the Acieta booth 23670 and talk with a specialist. Or, contact us at info@acieta.com to schedule a time to meet with an expert in the Acieta booth.