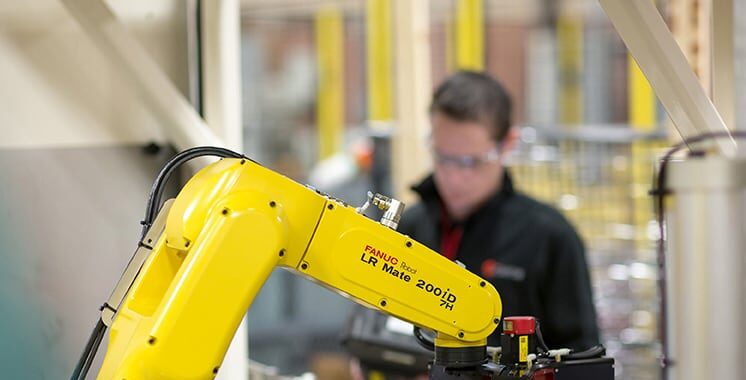 As the world begins to embrace automation and robotics, there has been a rise in demand for automation specialists. To accommodate growing demand, Acieta has updated our facility and is looking for people who want to help us shape the future of automation.
Automation is an industry poised for growth and with that growth comes exciting career opportunities. In the words of one of our employees:
"One of the hottest industries; Industrial Automation is on a path of 12% year over year growth – which means for Acieta to continue to be on the forefront of Robotic Integration, we need to grow as well. Robotics is challenging, exciting, always evolving and can be extremely rewarding, but it takes the entire team to be successful," shared Steve Alexander, Vice President of WI Operations, Acieta. "There's no better feeling then being part of a project that has been concepted, designed, built and integrated by you and your team; which is why Acieta is continually looking to grow our team of creative, self-motivated, driven individuals. Whether it's within the design, assembly, programming or service group, there are opportunities to grow." 
Working in an industry that is ever evolving, you'll always have new ideas to explore, and here at Acieta, we embrace change as the opportunity to learn something new. These are the top ten things our team loves about working at Acieta, and we hope this will get you just as excited to join us!
Schedule Flexibility
Work/life balance is important here. While we value a strong work ethic and people who are willing to go the extra mile, we also understand that there is life outside of work—and we want you to enjoy it! For this reason, management is accommodating of vacation and time off for our team members. We'll be here when you return refreshed and ready to get down to business.
Reclaim Your Fridays
We offer flexibility in most departments. We have positions with a regular 8am - 5pm schedule, but some departments are able are able to work four, nine-hour shifts and take a half-day on Friday, or four ten-hour shifts to take Friday off. We want to give you the power to choose how you like to work so that you can enjoy your time off to the fullest.
Clear Growth Opportunities
With a boom in the automation industry, we want to work with people committed to long-term personal and professional growth. However, the days of working in one position for 20, 30 or 40+ years are long gone. To help our team members grow, we're invested in individual success and want to see you thrive in a position that you enjoy. Team managers actively work with Acieta employees on career path planning and prioritize internal promotions.
A Focus on Continuing Education
Along with clear growth opportunities, we focus on continued education in order to remain a leader in the industry and keep skills sharp. Acieta sponsors employees to receive the Master FANUC Certification, provides cross-training in multiple departments and offers tuition reimbursement.  
We Live by Our Core Values:
Our values are a true code, not just a set of words. These values are what have gotten us to where we are today and we treasure employees who can uphold them. Acieta's core values include:
Positive Attitude: We are fix-focused, no excuses, and lead by example.  
Passion/Hunger: A relentless pursuit for excellence.
Ownership: It is my responsibility, I will get it done.
Trustworthy: Our commitment is our bond.
Customer First: We think of our customer as ourselves.
Team Oriented
Great work can't be done in a vacuum. That's why all departments have a role in the development of custom robotic systems for our customers.
"Our team environment allows team members from different backgrounds to contribute creative ideas and alternate perspectives," shared Ryan Morgan, Sr. Mechanical Engineer CSWP in WI. "We encourage corkscrew thinking when it comes to problem solving; swapping ideas and collaborating to solve problems together. The synergy between team members produce solutions to overcome obstacles and create productive results."
With the proper training, encouragement, and education we believe we'll not only create better end results for clients but create a happier, more welcoming environment for our employees.
Family Atmosphere
We treat our people like family and spend time together both on and off site.
Take it from Mark Sumner, our Vice President of Sales & Marketing who said, "I have always been with large companies in my career. When I looked for a new position, I looked for a smaller company in a very dynamic industry. Acieta represented everything I was looking for in terms of a small close-knit community. Everybody worked well together in the robotics industry which is growing tremendously and has an enormous runway for growth. I wanted to be a part of that."
Fun Fact: Racing Enthusiasm Welcome
Many of our team members here at Acieta share a passion for racing. We've sponsored four cars, including Steve Apel and legendary race car driver Conrad Morgan. In our Council Bluffs, Iowa location, others on the team have built cars together and are on the same race/pit crew. We've also helped to sponsor two of our Council Bluffs employees who are dirt track racers, Corey Madden and Mike Harris. It's a family affair!
Amazing Places to Live and Work
With locations near Milwaukee, Wisconsin and Omaha, Nebraska, Acieta offers opportunities in two up and coming US cities. According to the U.S. News & World Report's, Milwaukee has moved up 20 spots into 47th place on the top 50 places to live in terms of affordability, job prospects, and quality of life. Omaha has been named a top 5 up and coming city by TIME and a 'Silicone Prairie' tech hot spot.
Both cities have bustling metropolitan areas and plenty of options for living in quieter, surrounding cities. Overall there is a little something for everyone,  and of course, both offer that beloved Midwestern charm.
Plenty of Travel opportunities
If you're looking for a career that affords travel opportunities all over the U.S., our Service Department might be for you! Our commitment to excellence involves a lot of traveling — especially in the service and integration departments. We often travel to perform on-site visits to customers. Additionally, we're committed to staying on top of industry trends and often send our team to continuous education opportunities and trade shows.
Commitment to Community
We are committed to the future of automation and the people who are helping build that future. Within this commitment, we believe in creating opportunities for the youth that will continue paving the path forward. Acieta is invested in our local communities by supporting future manufacturing and engineering majors at our Wisconsin and Iowa locations.
In Wisconsin, Acieta is a member of the Waukesha County Business Alliance and is committed to growth in the area. Meanwhile our Council Bluffs, Iowa team provides robots and robotic parts to local high schools and technical colleges to encourage interest in automation careers for the next generation.
Acieta employees are also board members for Iowa Western Community College and Central Lakes Community College and have sponsored high school robotics clubs and the IWCC robotics program.
Hope to See You Around?
At Acieta we're committed to our work and people through our family culture. Our team will train the right people, even without robotic experience, who embody our core values. We look for people that have passion, drive, and ingenuity capabilities.
Robotic automation is shaping the future of manufacturing. The industry is predicted to continue growing, and with that comes an influx of opportunity and jobs. We hope you'll choose to grow with us.
If you can picture yourself building the future of automation alongside us at Acieta, visit our employment page for more information on open positions.