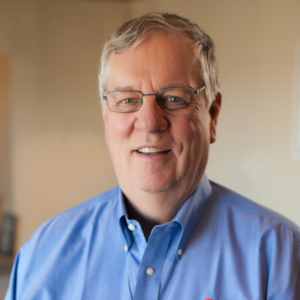 We offer our thanks to robotics pioneer John Burg on his retirement
By Robby Komljenovic, Acieta Chairman & CEO
An industry legend. A pioneer. A visionary. All those words describe John Burg, who has been integral in expanding the use of robotics in the manufacturing industry for the last four decades.
Now John is taking a well-deserved retirement from his role as Founder of Acieta, but he plans to still mentor the sales team and consult on special projects.
John's retirement marks the end of an era. He began his legacy in the 1980s, a time when no one but the big automotive OEMs were using robots to improve operations. John saw the future of robotics as a technology adoptable by small and medium manufacturers as well, and he began a long journey to help grow robotics into what it has become today: affordable, smarter, faster and accessible to all.
John began the company in 1983 while working as a machine tool distributor. He and his father, Marlo Burg, developed a fascination with robots used in machine shops, so they started Automated Concepts Inc. with eight employees and desktop computers. Over time, the company grew and advanced technologies by merging with other companies to eventually be named Acieta in 2014.
Under Burg's leadership, Acieta has grown to become one of the largest robotic integrators in North America. Over his career, he worked directly with thousands of clients to create a positive future for North American manufacturing.
The industry recognized John's contributions to the industry in 2002 by awarding him one of the world's most prestigious robotics honors 2002, the Engelberger Robotics Award (the Nobel Prize of robotics), which was presented by RIA (now called A3 Robotics).
During his 38+ years of leadership in the robotics world, John was elected to numerous board positions where he helped shape programs that furthered the industry. Throughout the years, he has inspired his colleagues and industry companions alike with his drive, energy, and creativity. His customers have always appreciated John's candid, clear and non salesy consulting approach. John believed that if you give your customers just a tad more than what they expect, you will have forever fans. He lived and breathed that philosophy every day.
While we will miss working with John, we will continue his dreams of growing the robotics industry and to help manufacturing to become even safer and more productive. John's responsibilities have been transitioned to Greg Morehouse, who has been with Acieta for 7+ years in senior leadership roles within the Procurement, Project Management and Sales departments. Most recently, Greg has been Acieta Executive Vice President where he's led operations teams to develop robotics projects for customers.
I wonder what the robotics industry might be like today if John hadn't seen and acted on his vision in the 1980s? Fortunately, we will never know. Thank you, John, for making the world a better place for your customers, coworkers, friends, family and the manufacturing industry as a whole.
Best regards and cheers,
Robby