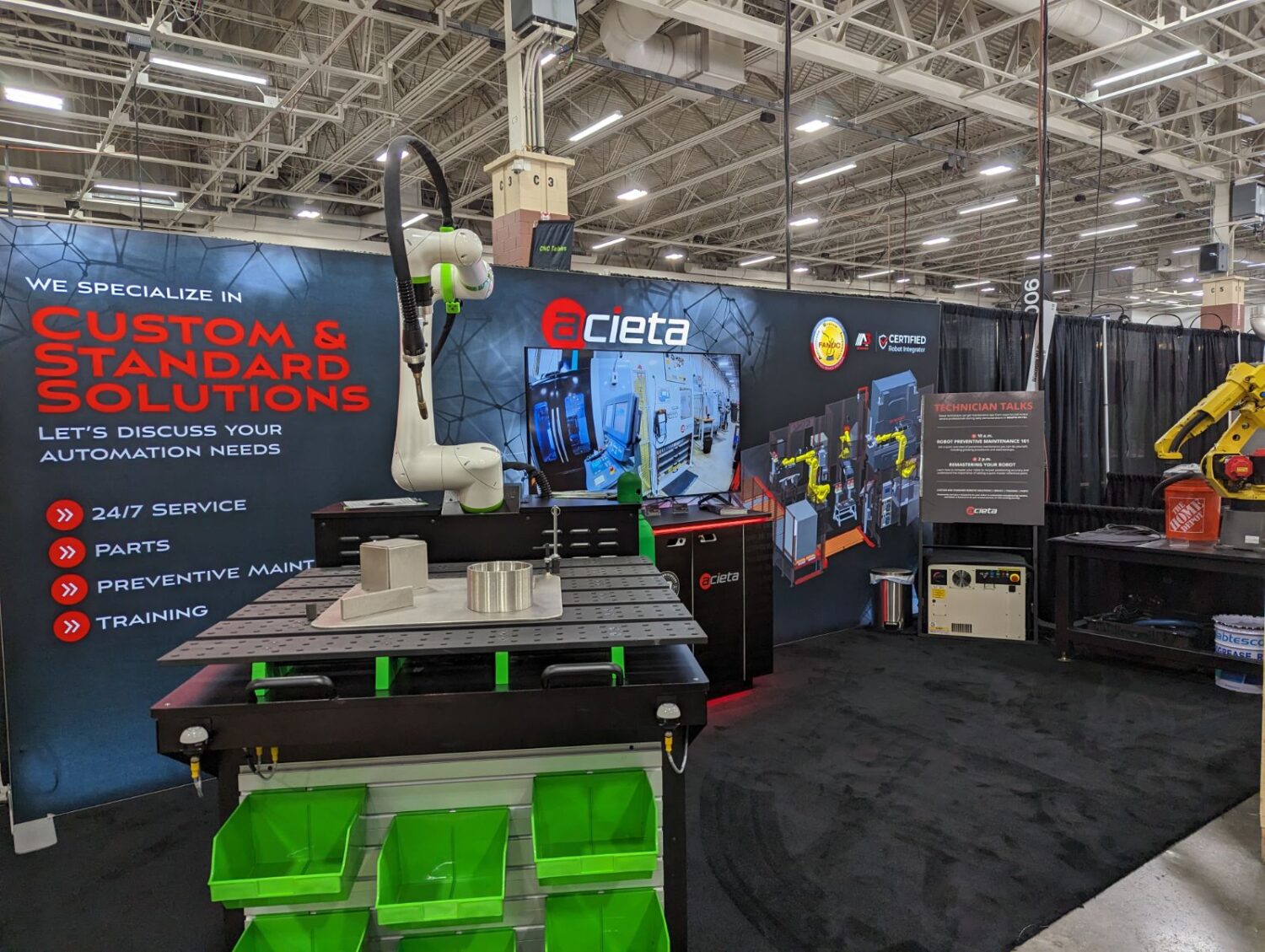 Advanced manufacturing is thriving in the Midwest United States, and many of these manufacturers are adopting automation to give them a competitive edge. To help companies learn more about low-cost, easy-to-use robots available to them, Acieta is bringing effective robotic automation solutions to the Wisconsin Manufacturing and Technology Show – the industry-leading Midwest manufacturing trade show – held Oct. 3-5 in West Allis, Wis.
Robot Demonstrations
In booth 1112, Acieta will feature daily demonstrations with the FastARC CW collaborative welding robot. This system is designed to help manufacturers address labor shortages, increase high-quality throughput, and boost profitability. In fact, the majority of manufacturers see a full ROI in as little as 6-12 months*. (*Average ROI utilizing 2 shifts)
Have questions? That's what we're here for! Our Acieta experts will be on hand, ready to have engaging conversations and answer all your inquiries. Whether it's about specific shop floor needs or exploring how robots can solve your most critical challenges, we're your go-to resource.
Education Seminars
Acieta experts will provide educational presentations about some hot robot topics:
October 3 - noon
Innovation Corner Learning Center
The Life of a Robot: How to Maintain its Longevity and Reliability Q&A. Acieta's Todd Fickau will focus on the multifaceted maintenance practices necessary for optimal robot performance and longevity. He will answer attendee questions and provide recommendations on how to maximize a robotic investment.
October 4 - 10 a.m.
Advanced Manufacturing Learning Center
The Hidden Factors in Calculating a Robot's ROI. Steve Apel from Acieta will explain how to get started evaluating robots and calculating the business costs and higher profit potential to determine a robot's true ROI.
Technician Talks
Robot technicians can get maintenance tips from experienced Acieta service professionals during presentations in the booth each day:
10 a.m.
Robot Preventive Maintenance 101: Get a quick overview of preventive maintenance you can do yourself, including greasing procedures and data backups.
2 p.m.
Remastering Your Robot: Learn how to remaster your robot to recover positioning accuracy and understand the importance of setting a quick master reference point.
We've got a world of robotic solutions, services, parts, and training opportunities ready and waiting for you. Automation isn't just a buzzword; it's your ticket to unbeatable manufacturing success, and Acieta is your trusted partner on this exciting journey.
Chat with an Expert
Want to schedule a one-on-one discussion with an Acieta expert at WIMTS? Call 844-4-ACIETA to set up a meeting time.
Learn more about Acieta robotic solutions, services, parts and training opportunities at Acieta.com.