Case Study: Welding Robot Streamlines Production and Assures Consistent Quality for Assembly Fabricator
Industries:
Agriculture
General
Industrial
Process:
Automation
Robotic Welding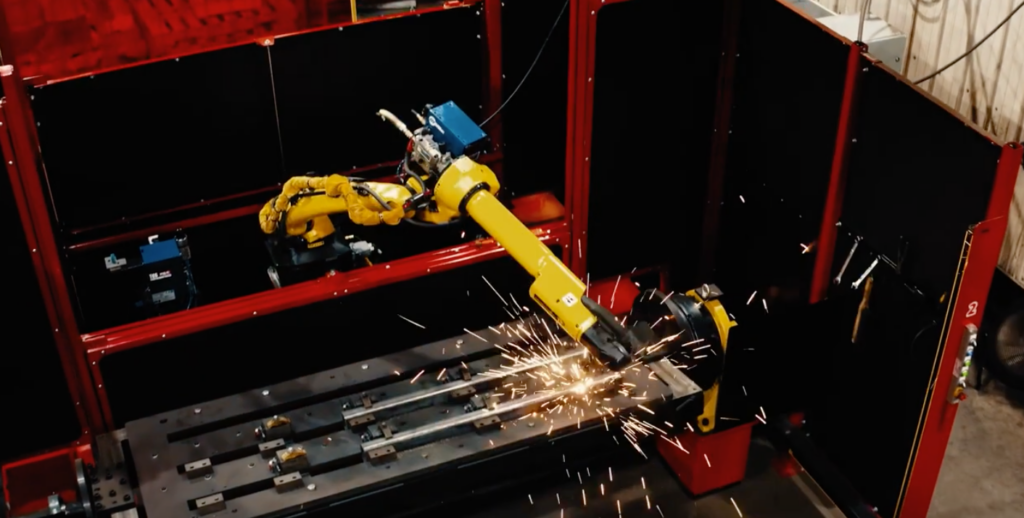 Fabricator streamlined operations, improved part quality, and increased output.
Set alongside farmland and a small municipal airport, MDS Manufacturing Co. in Parkston, SD, looks like a traditional fabrication shop from the outside. But inside, the company is busy manufacturing premier loader buckets and attachments using state-of-the-art robot technology to ensure high output without compromising quality.
Long-lasting quality has been a driving factor in the way MDS does business.
"We build a quality product that's not here for just today and tomorrow, but for the long run. It's a great value for our customers," said Brad Hohn, MDS managing partner. "It's like any other investment. The more you put in, usually the more you get out."
Growing overwhelmed
To keep up with high customer demand, 65 MDS employees fabricate steel parts spanning three shifts, five days a week. Production involves a lot of the same piece parts duplicated every day.
Previously, the shop had 22 manual weld cells, which were continually in use during a shift, but the workload became overwhelming. Looking for a more efficient way to produce repeatable parts, reduce operator fatigue, and eliminate rework, MDS considered adding a welding robot.  
At first the MDS management team was hesitant about getting a robot. The company considered itself too small compared to a typical robot user and was concerned that they could not justify the initial cost. Also, there would be no way to afford downtime during a robot installation.
Evaluating robot welding
To get advice about robotic welding, MDS turned to Acieta, a leading RIA certified and FANUC Authorized System Integrator with locations in Council Bluffs, Iowa and Waukesha, WI. After evaluating the operation and factoring in the company's concerns, Greg Morehouse, Vice President of Custom System Sales at Acieta, recommended a FastARC 2HT standard robotic welding system.
The FastARC welding cell has a FANUC 6-axis robotic arm and a dual zone headstock/tailstock with a rotating fixture, which creates two 3300 lb. servo-driven rotating work zones. While the robot is welding, parts are being loaded and unloaded on the other side of the system. This cell design can keep the robot running almost continually.
Fast installation
To minimize disruption to the production line, the pre-engineered FastARC system was installed in just a matter of a few hours. Thanks to careful planning between Acieta and MDS, everything was laid out and preset beforehand.
"I was very happy with the ease of just setting it in place, bolting it together, and it was running that day by lunchtime," said Chase Love, MDS Robotic Technician. "I don't know where else you're going to find that."
When considering other system integrators, Acieta's comprehensive care and expertise were key factors in choosing a robot partner.
"We looked at other robotics companies, but it would have been a hassle to buy the robot and all the other components, and then put it together ourselves. With Acieta, it came as one complete cell. They already did the work ahead of time," Hohn said.
More efficient
The new FastARC cell replaced two manual welding cells because it could complete multiple welds on small subassemblies quickly and accurately every time.  The robot allowed MDS to eliminate an entire operation for general parts that required multiple processes. Currently, there are 26 products run on the robotic system.
With the FastARC, MDS has gained a competitive advantage in weld consistently. It has resulted in efficiencies of 20 to 50 percent more weldments per hour of production and better-quality parts.
"All the parts come off the same every time, so it's easier to lock down our lead times which is better when there's no rework to worry about," Hohn said.
Condensing into one single operation with the robot has allowed MDS to make 100 grapple attachment sub-assemblies in 13 hours, down from 16 hours it took with manually— a 30 percent time savings.
Reducing fatigue
Typical parts at MDS are for large agricultural and construction equipment making it a slow and tiring job for welders just to set up a job. With continual labor shortage challenges, making employees happy is an important way to keep good workers onboard.
"We got into robotics to take the mundane and fatiguing tasks away so the skilled welders could focus on bigger projects and more rewarding work such as building complete assemblies," said MDS Engineer Alec Hohn.
MDS plans to work with Acieta to invest in additional robotic welding systems in the future as the company continues to grow.
When Our Customers Succeed, We Succeed
— Brad Hohn - MDS Managing Partner
"All the parts come off the same every time, so it's easier to lock down our lead times which is better when there's no rework to worry about."