BE PREPARED.
Control your future.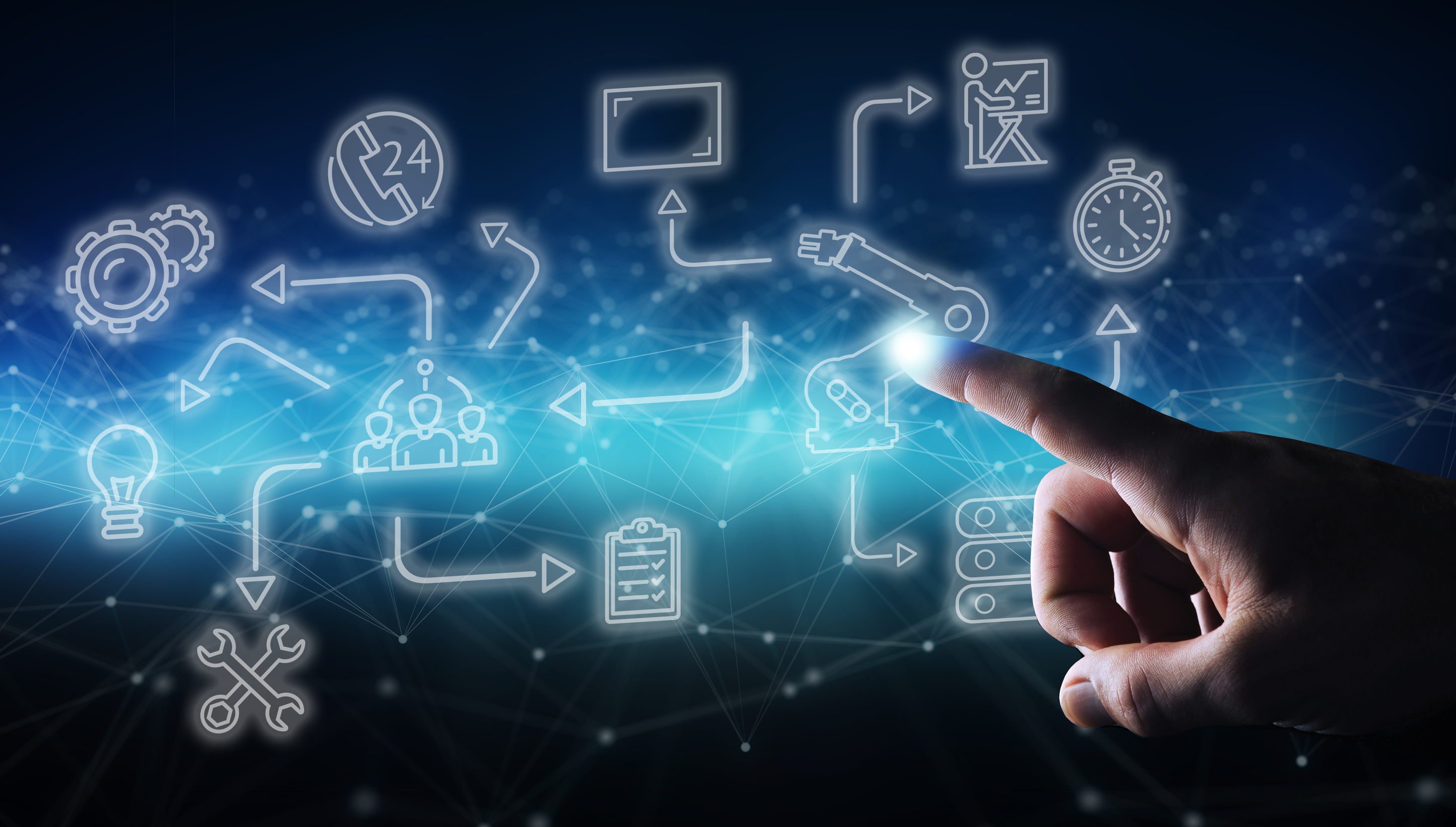 Are You Ready For What Comes Next?
As we've learned the hard way these last couple years, it's impossible to predict the future.
But we know some challenges aren't going away anytime soon: labor shortages, higher prices for raw materials, and the need to reduce our reliance on overseas suppliers. Robots may be the best way to improving your productivity, reducing costs, and filling jobs.
Please join us for a hands-on experience with robotic systems, and talk with industry leaders about their own experiences. See demonstrations of robot solutions that can give you the competitive edge to take on whatever the future brings.
Celebrate Manufacturing is Acieta's annual invitation-only event designed to help you understand the advantages of robotic integration for your specific situation. Our world-class team will be present to answer your questions, demonstrate value and help you prepare for the factory of the future.
Bring your questions, your goals and your imagination to talk with experts about how robotics can help solve your production and hiring challenges.
Hear from Celebrate 2019 attendees as they share the benefits they've learned about robotic automation.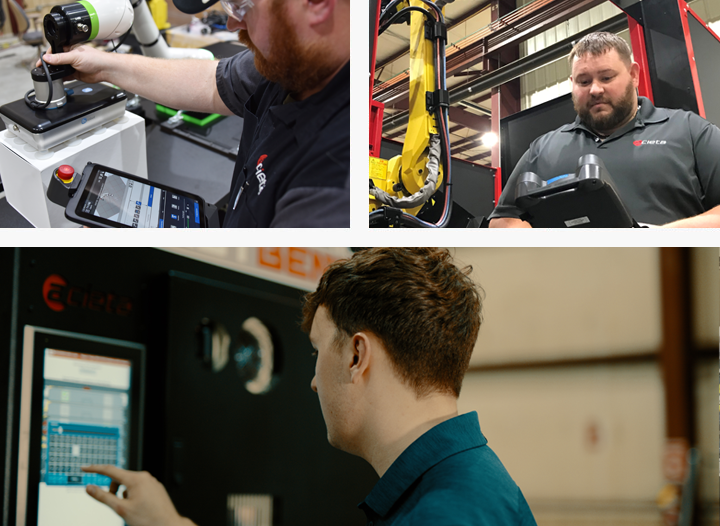 Agenda
TUESDAY, JULY 12, 2022
Acieta
2906 21st Ave, Council Bluffs, IA 51501
2:00 p.m. Check-in

2:15 p.m. Kick-off

2:45 p.m. Plant tour

4:00 p.m. Robot 101: Move that robot!

5:00 p.m. Close and depart to Farnam Hotel

6:15 p.m. Depart for dinner
WEDNESDAY, JULY 13, 2022
The Farnam Hotel
1299 Farnam Street, Omaha NE 68102
7:30 a.m. Welcome and breakfast

8:30 a.m. Panel
Hear from an industry-expert led panel discussing the state of automation and best practices in manufacturing.

10:00 a.m. Break
10:15 a.m. Presentation: BE PREPARED. Control your future.

11:15 a.m. Closing and box lunch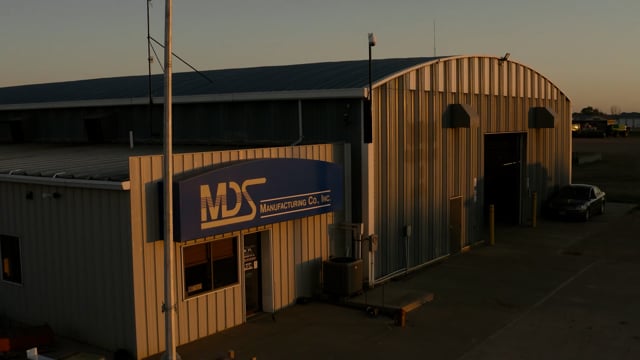 See the advantages from one company's choice to automate!
Fab shop MDS Manufacturing originally thought they were too small to afford a robot, but then they installed a FastARC 2HT standard robotic welding solution. Now they save a lot of time on processing, keep the lines running without roadblocks, eliminate the need for most rework, and have relieved fatigue from repetitive work for the manual welding operators.
BIOS

   
Steve Alexander, Vice President of Operations and Standards, Acieta | Presenter
Steve is Vice President of Wisconsin Operations and Standards for Acieta. Utilizing his vast experience with machine tool and robotics technologies, Steve has spent over 20 years helping manufacturers thrive in a competitive global economy. Steve enjoys the hands-on experience of helping companies solve challenges with robotic automation and machine tools.

John Burg, Founder Emeritus, Acieta | Panelist


Along with his father, John founded Automated Concepts, Inc., which would eventually grow into Acieta LLC. For nearly 40 years he devoted most of his time to this passion by helping customers find better ways to manufacture their products, lowering their part costs, and increasing their productivity.

James Cooper, General Manager – General Industry Sales and Execution, FANUC America | Panelist

James is responsible for FANUC America's general industry regional office sales and execution teams, Certified Education Training (CERT), Authorized System Integrator (ASI) group and the Executive Sales Team. He joined FANUC Robotics in 1985, and has over 40 years experience in the automation, robotics & packaging industries serving the U.S., Canada and Puerto Rico markets.

 

Chris Ford, Automation Engineering Manager, Knapheide | Panelist

Following in his grandfather's footsteps, Chris began his career in welding. Eventually, he combined his passion for welding with technology and advanced to manufacturing engineer and welding engineer for large scale manufacturers. In addition to Chris's role as automation engineering manager at Knapheide, he is a certified welding inspector and a part-time welding instructor at a community college in Illinois. Chris will soon be completing his degree in Industrial Management and Applied Engineering from Southern Illinois University, Carbondale.

Milton Guerry, President, SCHUNK | Panelist

Milton Guerry leads the customer and industry focused SCHUNK USA team, headquartered in Morrisville, NC. He is responsible for market-driven input to the global SCHUNK organization and is active in industry advancements in both automation and machining component design, development, marketing and sales. Milton serves on the Board of Directors for the Robotic Industries Association (RIA) and its parent association, the Association for Advancing Automation (A3). He is also the President of the International Federation of Robotics (IFR). Milton joined SCHUNK in 2000, holding several leadership roles before assuming his current role as President in 2007.

Robby Komljenovic, Chairman & CEO, Acieta | Panel Moderator

Originally born and educated in Germany, Robby has 30+ years of experience in the machine tool systems and automation industry. He is responsible for leading Acieta's relentless drive to deliver cutting-edge automation systems that help manufacturers to be more competitive and attractive places to work. Robby excels at developing and mentoring high-performing teams to serve customers locally and globally.

Greg Morehouse, Vice President Custom Systems & Sales, Acieta | Event Host and Presenter


Greg is responsible for leading a sales team in providing state-of-the-art custom automation solutions for customers. Greg has been with Acieta more than 7 years with roles within the Procurement, Project Management and Sales groups. Most recently, he served as Executive Vice President of Acieta's Council Bluffs, Iowa operations where he led teams responsible for design, production, and commissioning of robotic automation projects.
RSVP
Contact marketing@acieta.com or call 262-933-0018 with any questions. Fill out the form below to RSVP.
Recommended hotel:
The Farnam Hotel
1299 Farnam Street, Omaha NE 68102
Book your hotel room before June 27 for our $169/night group rate.
PHOTO DISCLOSURE
Photos and video will be taken at the event that may be used for marketing purposes.
PLANT SAFETY
Safety glasses (provided) and closed toe shoes are required for all plant tours.
Register for Celebrate Manufacturing Today!