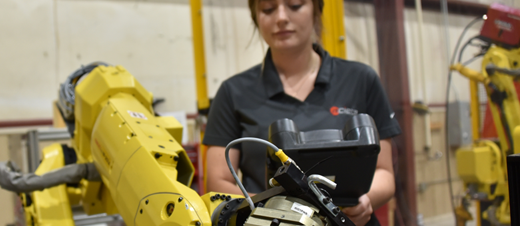 Email to apply: jobs@acieta.com
Summary:
Responsible for supporting customers in Canada for service, warranty, and installation support. Provide the robotic programming and other professional, technical expertise necessary to support quality integration, assistance/start up, and customer training associated with the company's products on time and on budget as well as ensure meeting traditional customer service expectations of customers of industrial products.  To be a critical part of a project (on-site or off-site); with the ability to make technical decisions, discretionary and independent judgment decisions at any time necessary while maintaining all communication with the project manager and/or Customer Service Manager.
Essential Functions:
Provide the technical expertise required for integration, programming, assistance, and service of robotic cells, including planning/writing of programming code as necessary.

Support regional sales efforts through customer visits, technical support, and aftermarket support.

Make recommendations to other functional areas to achieve quality improvement or lowering of design and manufacturing costs of Acieta's products.

When assigned by Service Manager, assist in handling incoming calls for service assistance or parts orders consistent with the company's Spare Parts Order Policy or other comparable policies.

Maintain company's service policy of built equipment, assisted, and in production at customer's site when down.

Follow all established customer service procedures and practices (i.e. telephone log of service calls, trip report log and file, reference file of Service Manuals and "Engineering Bulletins" from Fanuc or other robot vendors) to maintain an orderly reference file in customer service office. 

Ensure that any information relevant to a Job File (log sheets from assistance work, robot cell inspection sheets, trip reports, etc.) is provided in a timely manner.

Provide inputs to Engineering, Manufacturing, and management as appropriate; informing them of findings that are significant to designing or developing improved or new products. 

Assist with quotation/proposal activity as requested to assure valid and accurate representation of capabilities of robotic or flexible automation products of the company and realistic costs in terms of manpower expenditures and equipment/software requirements to achieve these goals.
Requirements:
Associate's degree (A.A.) or equivalent from two-year College or technical school offering specialized robotic training

Minimum 5+ years automation/robotic experience a plus, FANUC preferred

Experience with PM's (Preventive Maintenance)

Robotic welding and/or vision experience a plus

Travel; at times up to 100%; including up to consecutive 2-week assignments

Must have/maintain a valid driver's license and good driving record

Must have valid passport and credit card
Salary: Hourly DOE
ACIETA is an equal opportunity employer and positively encourages applications from suitably qualified and eligible candidates. ACIETA does not discriminate against any job applicant because of race, color, religion, sex, pregnancy, sexual orientation, gender identity, creed, national origin, disability, genetic information, citizenship status, age, military or veteran status, or any other prohibited basis under applicable local, state, or federal law. Applicants requiring reasonable accommodations in the application and/or interview process should notify ACIETA's Human Resources department at hr@acieta.com.
Email to apply: jobs@acieta.com